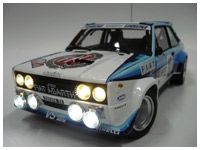 Die-Cast models were not realistic so far. Why? Because they met with SMD technology.
Up to now the Die-Cast models that we have in our collections and the ones that we exhibit in our display cabinets were giving us a pleasure even with the smallest details made by the factories.
Although watching them for hours, examining the details one by one giving us a pleasure, a new application technology has doubled this pleasure. How? With SMD technology.
With today's new lighting technology (SMD Leds), our small-scale hobby models will look realistic like real ones.
You need to be patient during the mount of these small led systems into your small scale models as its very hard, risky and all these processes needs a modelling skill.
How many modellers or collectors wants to open, brake or give damage to their scale models with purposely?? I am sure that no one wants it even attempts to do it..
As a professional modeller I know the difficulties of this job and carry this risk each time I open a model.
During the illumination and mounting of other electronic devices I am trying to use the similar color leds and technics as the original cars use to have.
For example: If the car is classic then a yellowish LED, if new then Xenon or even an angel type head lights.
Signals can be light yellow or a little darker depending to the original model. According to me all these small details on a scale model are authenticity and realism-enhancing components.
To which parts of a scale model we can mount these small leds???
1) Head lights can be lit up as short or long distance by the same switch.
2) You can lit up the warning lights as well as left&right signals separately.
3) Ceiling lights
4) Floor lights
5) Trunk light/s
6) License plate lights on back side
7) Indicators on dashboard
8) Gear lights
9) Door lights
10) illumination under the bonnet
11) Hazard or flashing lights on the roof or front side of a safety or patrol car.
12) Roof or front side flashing lights on a presidental or high security cars.
13) Neon lights under a sport car
14) 3. brake lights attached to rear window
15) Brake lights can be lit up together when front head lights switch to on.
16) Like the original car, when you push up the brake pedal back side brake light lits up.
17) More illumination in more detailed cars such as mini-bar, tv and etc….
All these things written above may vary depending to the feasibility, quality and other factors of the die-cast model.
So far I've done on the lighting application, by looking at the pictures of vehicles I made up to now you can have so many ideas about issues.
Note: Sometimes I receive mails from people who are asking about the materials I use, where I buy them, technics I use on my models and other details related to diecast illumination. I am sorry but I am unable to explain the details of my job. Please do not send me messages about this subject as I am not responding any of them.
Thank you.